The post-fast fashion world, these three types of manufacturing would be remained: using new fiber, using local fibers, and using fabrics that already exist.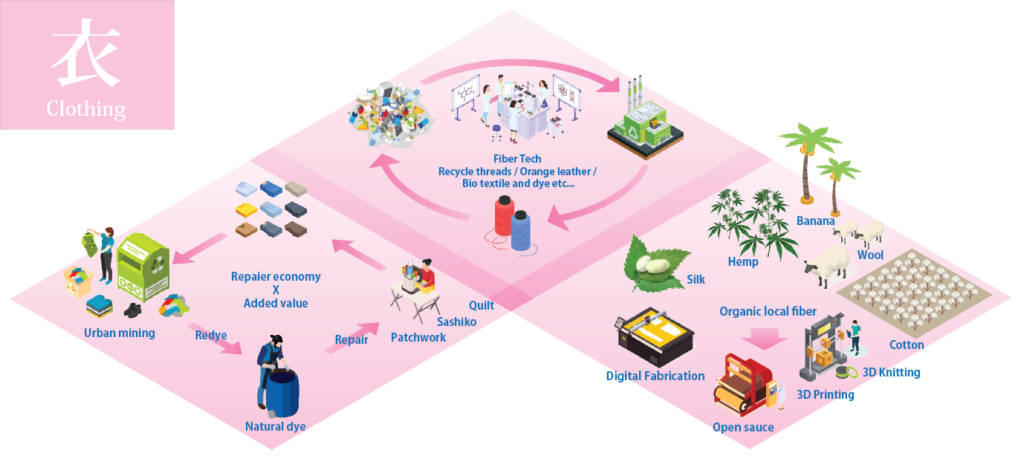 This is the matrix of textile production.
Using new fibers
In the field of mass production, the new tech fibers will be expected.
For example, recycle fiber from plastic or used garment, mushroom leather or Bio textile etc….

Using local fibers
Using local materials would be considered, such as banana fiber, wool, cotton, silk etc… But this method has limitations for mass production, so it would be locally produced for local consumption.

Using fabrics that already exist.
Using existing fabrics to make our garment is another choice. The fabrics and garments are extremely produced since now, we will reuse these fabrics repairing or customizing by ourself.
For our customisation, we will apply dyeing technique with natural indigo.
---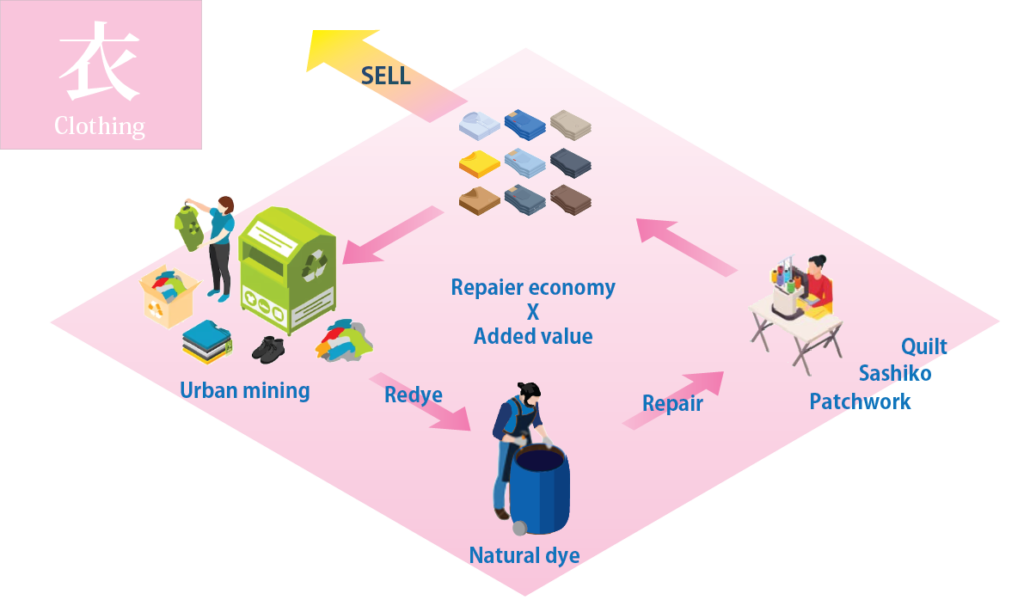 This is the matrix which will be our production.
We try to create a repair economy system that will repair and re-dyeing our garments and use them for the long term. Sometimes it will be used for several generations. In this way we can also add value into the product by modifying and customizing.

The more you customize, the more you add value to your garments!

Obviously designers and artists will be required for these productions.
These techniques are probably useful for this project like, Sashiko which is Japanese patchwork, Quilt and other repairing techniques.


---
Mr. Pod / Indigo pod project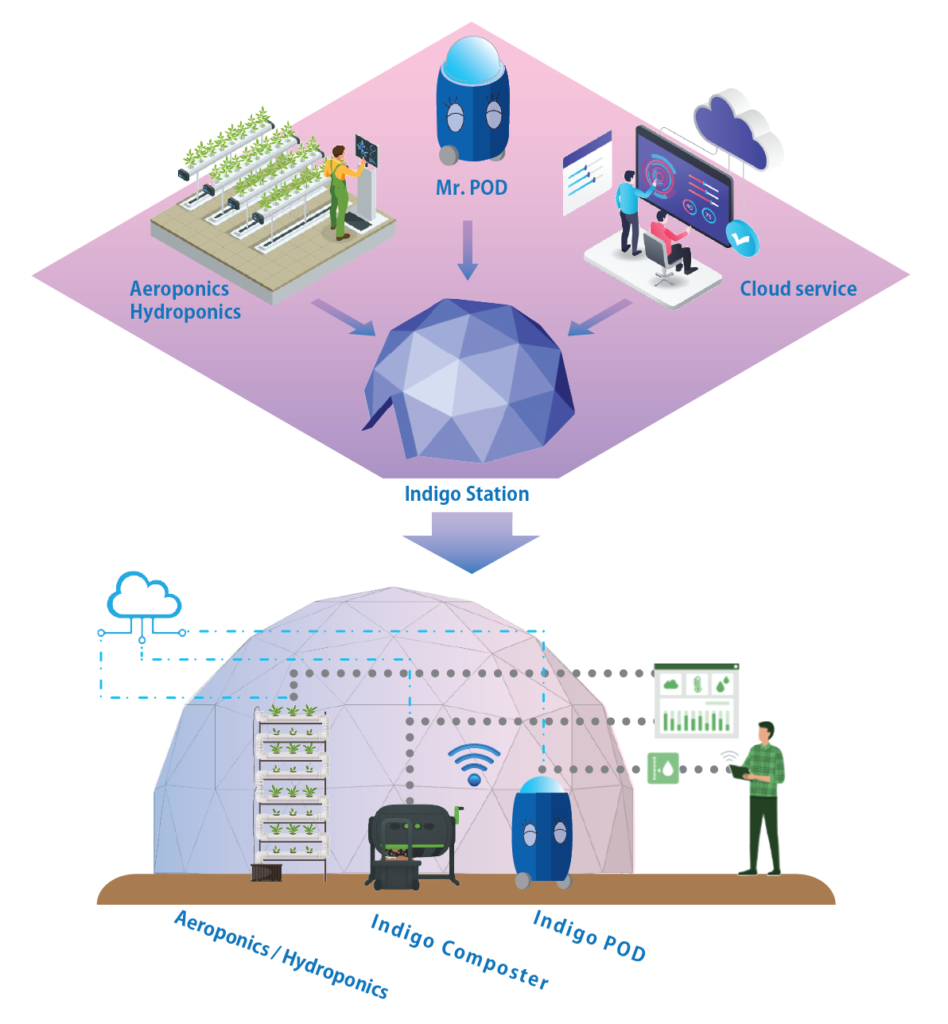 This is our proposal for indigo production.
Why indigo?
We believe that Japanese indigo, Persicaria Tinctoria, is easy fit for this project because of its characteristics. Japanese indigo is easy to grow under any conditions and can be mass-produced.
Compare to other indigo-containing plants, it can be grown Hydroponics or Aeroponics and is not so sensitive to climatic conditions.
Indigo Station
For the production of indigo, we propose an Indigo station that has all facilities for indigo cultivation and production. Indio Pod, which is a container of indigo color, will be installed at every station and you can visit and use it to dye your fabrics every time you want.
Indigo is grown either hydroponically or hydroponically in a greenhouse where temperature and humidity can be controlled. With this method, indigo can be planted vertically, minimal scale required, and harvested all year round without requiring a lot of manpower.
In reality, Japanese indigo farmers spend the entire summer harvesting.
Mr.POD /Sensor controlled indigo container
We are also projecting Mr.Pod.
Mr. Indigo is a sensorized indigo container.  It is used for preparing indigo color with fermentation methods.
The preparation of indigo color, there are many different ways.
We are going to apply Japanese traditional indigo preparations like the fermentation method. (SUKUMO VAT) 
This method does not require chemical components for indigo reduction, for example, Hydrosulphite, Iron sulfate or Fructose. It requires a bacteria power to create indigo color.
And the duration of the color will be more than one year in spite of one month if chemical components are used. Because bacteria keep growing in the pod and continue to do reduction for a long time.
 "SUKUMO"  Indigo composter
To apply SUKUMO method, indigo leaves need to be fermented like a rip compost. To make it, we are going to apply an electric home composter with which we can produce more easily than the Japanese traditional method. 
All instruments will be connected by cloud service and will be controlled and monitored.
---
It is important for the future of creation that people who make things work together to create a system in which raw materials and energy for making things circulate beautifully. "Valley of the Wind" also focuses on this concept.
This project is about realizing another future with a rich and humane life with nature.

---
Who will be happier for it?
This project will help farmers and artisans who are short of successors, making their work more efficient and creating more time. They can use the extra time to focus on promotion or creation.
First, the lower cost of indigo dyeing will increase the sales of farmers and artisans.
Secondly, indigo dyeing will become more accessible to the public and can become a kind of local dry-cleaning or shoe repair shop.
*However, this does not mean that these services will take away the jobs of existing artisans.
This could be a start of a shift to a long-use lifestyle.
Introducing them to developing countries like Africa could reduce environmental impact.
Why is this an issue now?
We are faced with two choices: fast fashion or high fashion. However, the problem is that we do not have a third option.
The third option does not refer to a price range between fast fashion and high fashion. It is about building a system that allows us to get what we need, when we need, and in the amount we need.
Why have we not been able to achieve this before?
It has not been feasible because the technology of sensing or cloud services were not yet developed.
As our lifestyles changed, the demand for traditional art and crafts decreased. After that these traditional skills became protected, we lost the opportunity to try to apply them to modern life.
What was the reference for this idea?
In Japan, the people of the Edo period (1603-1868) lived a sustainable lifestyle. We can learn a great deal from them, one of which is indigo dyeing.
When their clothes became damaged or faded, they would re-dye them with indigo, and when holes appeared, they would sew them back together using the Sashiko technique.
When the clothes were worn out, they were cut into strips and re-stitched as children's clothes. Finally, they were used as floorcloth.
Why not take a hint from Dutch agriculture and adopt methods that use technology as much as possible to increase production efficiency with less manpower?
---